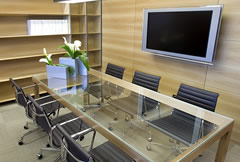 Orbitel Group provides high quality audio/video cabling, installations of TV monitors and projector mounts for your office, boardroom, classroom or conference room. We offer low voltage cabling solutions and installations for
audio and video:

• Audio/Video Cable Installations
• Projector Screens and Mounts
• Audio and Video Conferencing
• Small and Large Projection Systems
• Flat Panel Displays and Installations

Feel free to contact us and tell us more about your next audio/video project and requirements. We provide free site surveys and project estimates.