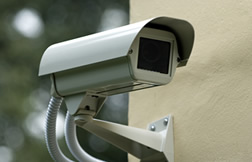 Video surveillance systems and security cameras, known as CCTV systems, offer the technology to protect your premises from losses due to vandalism, theft or employee misconduct. Orbitel group offers digital surveillance systems based on your needs with excellent picture quality, remote accessibility, and reduced maintenance cost.

Whether you need a few cameras or an entire surveillance system, we can help you design and select the right surveillance equipment. We work with our clients to identify the most efficient and cost effective configuration for their business needs. Clients have the options of choosing IP cameras integrated with security applications, DVRs, and other innovative technologies. Real time remote monitoring can be done over the internet or on your smart-phone device.



• IP Cameras and Video Security Systems/DVRs Installations
• Indoor and outdoor installation: Multi-location Surveillance
• Remote Viewing Capabilities
• Digital Video Recorders (DVR) Installations – PC based or Stand-alone
• Wireless Cameras
• IP Dome Cameras
• Infrared night cameras

Secure your premises and protect your business assets.




Feel free to contact us and tell us more about your next CCTV project and requirements. We provide free site surveys and project estimates.