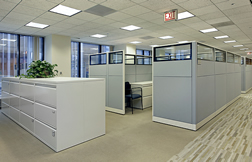 Orbitel Group will work with you from the initial stages of your move throughout the process to ensure smooth transition to your new location with less downtime. We will come to your business to assess your telecommunication needs, discuss your requirements, and evaluate all aspects of your move to estimate and plan your project. We are experts in the planning and implementation of data and voice as well as fiber optics structured cabling solutions to establish connectivity in your new office.

Project Management: With Orbitel Group, you will have a single point of contact for your office move and project issues. A Project Manager will work with you from the initial planning stages, through resolution of all issues, to completion of the project. We will coordinate with you any project activities that need to be completed outside of normal business hours. Visit our clients page to view our history of past projects and office moves.


Upgrades to existing Installations: Moves and Changes

Do you expect changes, moves, or re-locations within your office?
Do you plan to upgrade your existing infrastructure?

Change happens every day in organizations. Sometimes business expand operations, and other times restructure and merge departments and operations. Employees move from one office to another, and businesses need to move, change or upgrade voice or data cabling such as adding new cable drops, fax lines or outlets. Some departments need a slight modification while other may need a complete rewiring of network and voice cabling.

Orbitel Grop works collaboratively with clients to satisfy their office relocation, changes and additions to ensure their telecommunication infrastructure is in place and functioning smoothly.

Feel free to contact us and tell us more about your next office move and requirements. We provide free site surveys and project estimates.