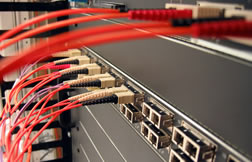 Fiber Optic Solutions – Single-mode - Multimode
Orbitel Group specializes in installation, termination and testing of fiber optic cabling. Single mode and multimode optical fiber solutions are available with your choice of ANSI/TIA-568 compliant connectors. We have invested in the most up to date equipment to test and certify our fiber optic installations. We guarantee excellence and high quality connectivity. Orbitel has experience installing and managing fiber optic solutions for small and large scale projects. We like to take a consultative approach, and work with clients collaboratively to ensure quality control throughout the entire project.

Fiber Optic Termination, Certification & Testing
• Single Mode Fiber Optic
• Multimode Fiber Optic Cabling
• Testing & Certification
• Terminations

Reasons for choosing Fiber Optics Cabling:
• Fiber optic can connect floors, server rooms, or buildings. It's a cost effective solution for an area that is too large for Cat5e or Cat6 cabling.
• The benefit of fiber optic is that it can transport more information longer distances in less time than any other medium.
• Fiber offers the freedom to meet all of your future telecommunications needs.
• It  is the exclusive medium for long distance communication.

The cost of transmitting a single phone conversation over fiber optics is only about 1% the cost of transmitting it over copper wire.
Feel free to contact us and tell us more about your next cabling project and requirements. We provide free site surveys and project estimates.